Overview
5th Wheel Adapters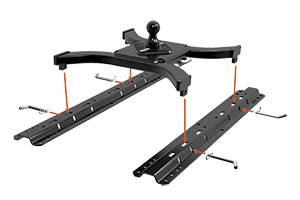 Just because you install 5th wheel brackets and rails in your truck bed does not mean your truck is limited to one type of towing. To give your truck the tools it needs to be the ultimate towing machine, CURT offers a gooseneck adapter for a 5th wheel setup. A 5th wheel / gooseneck plate is essentially a gooseneck hitch that mounts into a set of 5th wheel rails just like a 5th wheel trailer hitch. This allows you to pull both 5th wheel trailers and gooseneck trailers with the same pickup truck.
CURT 5th wheel gooseneck hitches feature four pin-and-clip attachment points for solid installation and quick removal when necessary, giving you full access and full use of your truck bed for hauling other loads. Best of all, our gooseneck adapter plates mount onto all industry standard rails. They feature an impressive 25,000-lb. gross trailer weight capacity, a tongue weight capacity of 6,250 lbs. and offer a 2 5/16" trailer ball for pulling most types of gooseneck trailers, including livestock trailers, chopper boxes, gravity boxes, industrial equipment haulers, flatbeds and more.
CURT 5th wheel gooseneck plates and gooseneck 5th wheel adapters are the ultimate versatility tools in heavy-duty towing. We coat our 5th wheel gooseneck hitches in a black carbide powder coat to ensure that they are highly resistant to rust, scratching and UV damage. We are so confident in the quality of our 5th wheel gooseneck plates that we back them up with a seven-year limited warranty to give you peace of mind no matter what you are towing.